Dive Into Deep Learning
Jump to navigation
Jump to search
mxnet
A FLEXIBLE AND EFFICIENT LIBRARY FOR DEEP LEARNING
A truly open source deep learning framework suited for flexible research prototyping and production.
Apache MXNet is an effort undergoing incubation at The Apache Software Foundation (ASF), sponsored by the Apache Incubator.
Features
Hybrid Front-End
Distributed Training
8 Language Bindings: Python, Scala, Julia, Clojure, Java, C++, R, and Perl
Tools & Libraries
Articles from mxnet
Deep Learning Programming Paradigm
Symbolic vs. Imperative Programs

Big vs. Small Operations

sigmoid(x) = 1.0 / (1.0 + exp(-x))
SigmoidLayer(x) = EWiseDivisionLayer(1.0, AddScalarLayer(ExpLayer(-x), 1.0))
Dive into Deep Learning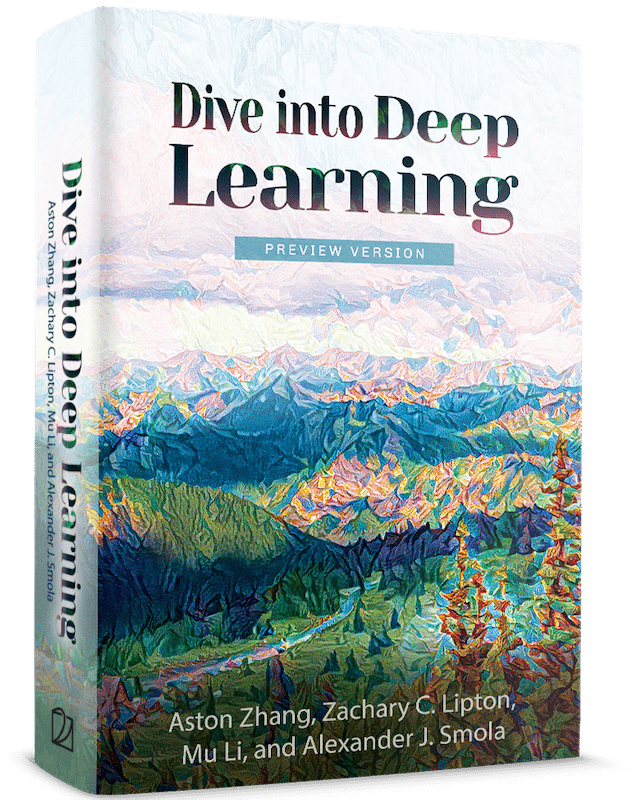 A deep learning book with interactive jupyter notebooks, math formula, and a dedicated forum for discussions.
It offers an interactive learning experience with mathematics, figures, code, text, and discussions, where concepts and techniques are illustrated and implemented with experiments on real data sets.
Each section is an executable Jupyter notebook. You can modify the code and tune hyperparameters to get instant feedback to accumulate practical experiences in deep learning. <E>The book is authored by Aston Zhang, Amazon Applied Scientist UIUC Ph.D., Zack C. Lipton, CMU Assistant Professor UCSD Ph.D., Mu Li Amazon Principal Scientist CMU Ph.D. and Alex J. Smola Amazon VP/Distinguished Scientist TU Berlin Ph.D.
D2L is used as a textbook or a reference book at Carnegie Mellon University, Georgia Institute of Technology, the University of California Berkeley and many more university
Resource
Download page and local backup file (2021-Jan)